Videos
Rawi Hage on Carnival
Award History
Jury Citation
Rawi Hage is as clear-eyed and fearless a writer as this country has known. Book after book he descends into the darkness, returning with a story we require.
How does he survive it? How do we?
Through his humanity, evident in the compassion that runs like a subterranean stream under even the most brutal of his scenes. Through his humour — though it often undoes you even as it yields relief. Most importantly, through his art: no matter how troubling the tale, Hage delivers the essential solace of the unerring line.
But what of redemption, of hope? Ultimately, Rawi Hage's novels offer up something wilder and more elemental. Call it life force if you will. Call it love.
— 2019 Jury Citation (Peter Behrens, Paul Seesequasis, and Alissa York)
Selected Works
Beirut Hellfire Society
Jury Citation
"In Rawi Hage's Beirut Hellfire Society, a city wracked with violence and destruction serves as a backdrop to a powerful exploration of the nature of death and what comes next. Twenty-year-old Pavlov, the son of an undertaker, is approached by the Beirut Hellfire Society after his father's death to take up his work: rites and rituals for those who have turned their backs on religious faith, social mores, and family expectations. As Pavlov's worlds, internal and external, begin to fragment, we are drawn into an investigation of what it means to die, and, by extension, what it means to truly live."

— 2018 Rogers Writers' Trust Fiction Prize Jury (Ann Y.K. Choi, Mireille Silcoff, Robert Wiersema)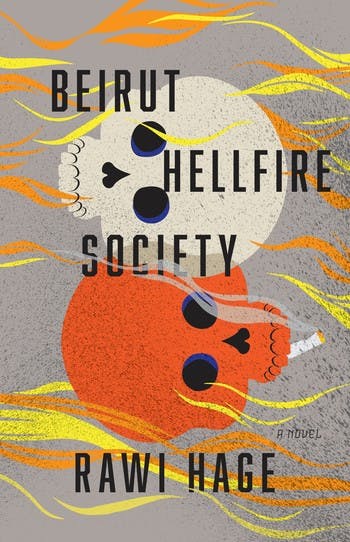 Jury Citation
"Rawi Hage's freewheeling Carnival delights and surprises the reader at every turn. This vivid and wildly original tale is told with all the colour, clamour, and showmanship that the novel's title evokes. Hage's narrator, Fly, buzzes through the city in his cab, relaying his impressions — by turns hypercaffeinated and sleep-deprived — in electrifying, often hallucinatory fragments, shot through with violence, madness, beauty, and desire. It all adds up to a veritable magic carpet ride of a story." — 2012 Rogers Writers' Trust Fiction Prize Jury (Lynn Coady, Esi Edugyan, and Drew Hayden Taylor)